What is I Can Speak all about?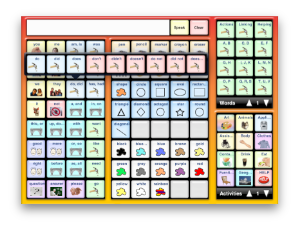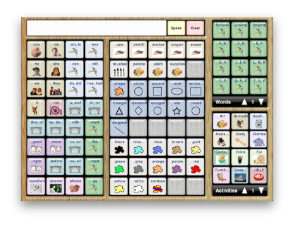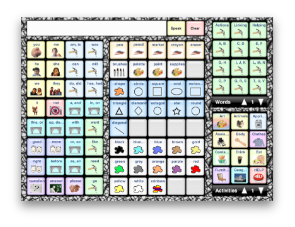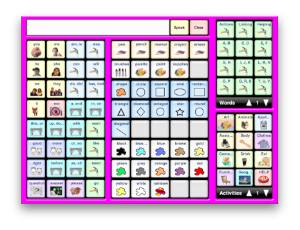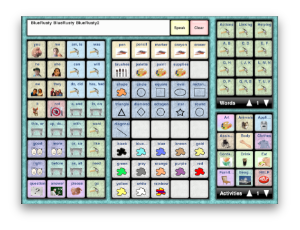 I Can Speak comes with over 850 words in over twenty categories and over a dozen pre-stored phrases with room for up to almost 10,000 words and phrases. The words in I Can Speak are divided into three distinct areas. The first and most important section is the Static section and is found on the left hand side of the system which is always available when using the other two sections. The second section is the Words section with room for up to 4,800 common words. The third section is the Activities section for words and phrases for activity based vocabulary with room for up to 120 common activity pages with up to 40 words or phrases on each page.

It is the combination of these three sections that makes I Can Speak so unique. You build sentences from left to right choosing a sentence starter from the Static section and adding an action from either the Static section or from either of the Words or Activities sections. Then push the Speak button to hear that sentence.

Here is a list of common sentences that can be produced very quickly using I Can Speak:

I don't like that
I like that
I like those
I need those
What is that
Were are they
When is it
Which is mine
What did she do
I couldn't go
They need more
I didn't like it
Do you like this
Do you like them
I don't know
Thank you
You're welcome.
Yes, please.
Did you hide it
Can you hurry
It didn't hurt
I do hope
When did it happen
Where were you
Please call for help.
Please Help! I'm choking!
I don't feel good.
I need to use the bathroom.
The words that are included in I Can Speak are a collection of common words and include groups of words found in the Dolch List which is available on many online sites.


I Can Speak comes with over 150 icons. The ideal use of I Can Speak is to add your own icons to the system from either the shared folder that appears when you connect your iPad or from online sources like Flickr etc. or a connected digital camera. We will be making changes to the application in the near future to allow for the adding of icons to the system.


I Can Speak comes with 12 built-in themes. Each theme consists of one or more Background Frames and a Button Style. The Frames and Buttons can be mixed to make all new themes. We are working on having many more themes available for download in the near future. Here are a few of the themes that are included in this version:




White, Black, Red/Yellow, and Hot Burst Glass

A gel like frame which works with many button styles.









Black Veins, Chrome, and Dented Metal

A more wild frame which works with many button styles.







Red Neon

A Neon frame which works with some button styles.




Oak

A gel like frame which works with some button styles.






Blue Rust, and Yellow Threads

A fun frame which works with some button styles.




This version of I Can Speak uses a voice for speech synthesis from the Language Technologies Institute, Carnegie Mellon University, Copyright (c) 2000 adapted for use with the iPad. Future versions may include other voices both male and female and in different languages. If you have a preference for a particular language please feel free to contact us.

We welcome all feedback and feature requests. Please feel free to contact us at mypad @ lazyriver.on-rev.com