Lazy River Woodwork creates beautiful steam bentwood rings and handmade bowls, lamps, cutting boards, furniture and other greenwood items. Gift your loved ones with unique and beautiful handcrafted wood work.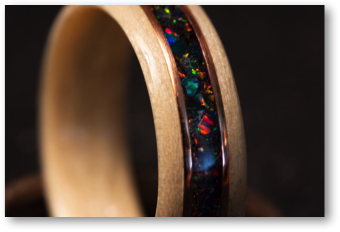 Maple Steam Bentwood Ring with Two Copper Wire or Brass Wire Inlays with a Center Inlay Mixture of Black Fire Opal and Space Titanium Opal



Description
This is a Beautiful Steam Bentwood Maple Ring with Two Copper Wire Inlays surrounding a Beautiful Mix of Black Fire Opal and Space Titanium Opal. A Custom Ring will be made for you in your ring size. Due to the custom nature of this ring slight variations will occur but the overall ring will look like this ring.
The laminating process that happens during steam bending makes these rings very strong and the layered finish is waterproof and resistant to many chemicals and has a tensile strength up to 4,000 psi and Shore A Hardness of 85. The Service Temperature range is -60f to +225f.
They are resistant to most scratches but like any jewelry care should be taken when submitting it to harsh environments. If for any reason the ring finish is damaged the finish is easily repaired.
Pleas feel free to ask any questions about this stunning ring.